Expected level of development
Australian Curriculum Mathematics V9: AC9M3M03 AC9M3M04
Numeracy Progression: Measuring time: P3
At this level, students develop their ability to read time to the minute using analogue and digital clocks. They also estimate and compare the duration of events.
An essential understanding for students is the five-minute count as the minute hand meets each face number. This is supported with opportunities to match analogue clock times such as 5 past, 10 past, 15 past, 20 past with digital clock times such as 1:05, 1:10, 1:15, 1:20. This idea supports telling time to the minute.
Provide visual and tactile experiences to develop students' conceptual understanding and ways to represent their thinking.
Provide opportunities to estimate duration of events and check using a range of timing devices.
Use collaborative time-related problem-solving tasks that involve mathematical discussion. Probe students' thinking to draw out mathematical reasoning.
Look for opportunities for explicit teaching, for example, make explicit the use of calculations like 'finding the difference' to help express time to the minute (e.g. finding the difference between 48 and 60 to find how many minutes are left in the hour).
Consider ways to include First Nations Australian knowledge of time such as by using storytelling to explain day and night cycles.
Teaching and learning summary:
Explore time to 5-minute and 1-minute intervals on analogue and digital clocks.
Match analogue and digital clock times to 5-minute and 1-minute intervals.
Make explicit simple conversions between units of time; hours, minutes and seconds.
Apply telling time in relevant contexts.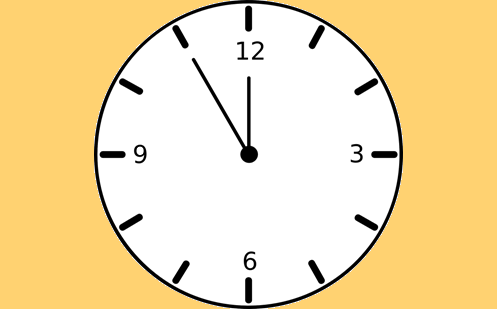 Students:
read and model times to 1-minute intervals on analogue and digital clocks, including using the language of 'past' and 'to'
understand and express times to the minute in multiple ways (e.g. 'ten forty-seven', 'forty-seven minutes past ten' and 'thirteen minutes to eleven' indicate the same time)
describe the relationship between units of time such as hours, minutes and seconds
give reasons to justify their thinking when solving time-related problems.
Some students may:
think that the minute hand is more important because it is bigger than the hour hand. Be explicit about the position of the hour hand and minute hand when telling the time using an analogue clock.
not realise the importance of each number being evenly spaced on an analogue clock (to ensure that every hour has equal duration). To address this, observe the clock faces and be explicit about the spacing.
confuse the way numbers on a clock have multiple meanings depending on which hand points to it (e.g. when the hour hand points to the 7, this represents 7 o'clock; when the minute hand points to the 7 this represents 35 minutes past the hour and 25 minutes to the next hour). Address this by showing a time read that is a mistake. Ask them to reason why it is a mistake and what the correct time should be.
The Learning from home activities are designed to be used flexibly by teachers, parents and carers, as well as the students themselves. They can be used in a number of ways including to consolidate and extend learning done at school or for home schooling.
Learning intention
We are learning how to tell time using a clock face and digital time to one-minute intervals.
Why are we learning about this?
Clocks are a tool we use to measure time.
What to do
Open the interactive Time tools: 12-hour to the minute.
Use Practice time to match analogue times on a clock face to digital time on a digital clock.
Next, use the clock to work out these time-related problems.

A bus departs at 8.32 am and arrives at school 21 minutes later. What time does the bus arrive at school?
School finishes at 3.30 pm. It takes Anna 43 minutes to walk home. What time does Anna get home?
A family starts their evening meal at 6.30 pm. They finish their meal in 15 minutes. It takes them 10 minutes to do the washing up. How long do they have before their favourite show starts at 7.30 pm?
Explain how you worked out your answers using drawn or captured images of the clocks.

Now do the Time challenge.


Try at least three times to match to the master clock.
Record your results in drawing or as screen capture.

Finish by doing the Time match.

Match the digital time to the analogue time.
Success criteria
I can:
tell the time to the minute using a clock face and digital clocks
match the digital time to the analogue time and vice versa
work out the total duration of combined events
find the difference between two times to work out elapsed time.
Please note: This site contains links to websites not controlled by the Australian Government or ESA. More information here.
Teaching strategies
A collection of evidence-based teaching strategies applicable to this topic. Note we have not included an exhaustive list and acknowledge that some strategies such as differentiation apply to all topics. The selected teaching strategies are suggested as particularly relevant, however you may decide to include other strategies as well. 
Assessment
By the end of Year 3, students are using familiar metric units when estimating, comparing and measuring the attributes of objects and events.