Expected level of development
Australian Curriculum Mathematics V9: AC9M6SP01
Numeracy Progression: Understanding geometric properties: P5
At this level, students extend their knowledge of simple prisms and pyramids (polyhedra) and their nets. They compare the parallel cross-sections of objects and recognise their relationships to right prisms.
Students explore the properties of 3D objects such as a cube, a square prism, rectangular prism, hexagonal prism and triangular prism and a tetrahedron (triangular pyramid) and square-based pyramids.
Use the context of architecture to investigate real-life examples of commonly used polyhedra – prisms and pyramids.
Build on the terms base, apex, edges, faces, net and corners (vertices). Introduce cross-sections using a variety of objects, including fruit, to demonstrate that cutting at a right angle provides the cross-section. Show a cut at an angle not at a right angle to show the difference in shape compared to the cross-section.
Have students investigate the cross-sections of a range of objects.
Teaching and learning summary:
Construct models of prisms and pyramids.
Use the context of architecture to investigate prisms and pyramids.
Introduce the cross-sections of right prisms.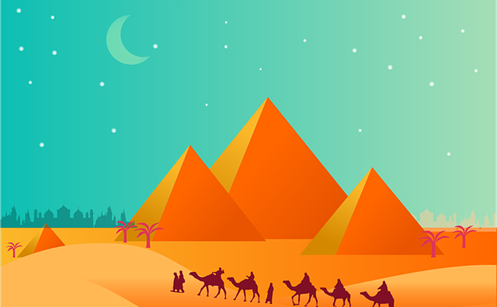 Students will be able to:
identify prisms and pyramids by the faces, bases, edges and vertices and by their nets
describe the difference between different right prisms
use simple vocabulary such as apex, base, face and cross-section
predict and describe the cross-section of a right prism.
Some students may:
not be able to distinguish between pyramids and prisms. Demonstrate and explain that the sides of a pyramid are triangular in shape and the sides of a prism are rectangular in shape. The bases on pyramids and prisms differ. Prisms have two identical bases, and pyramids only have one base. A pyramid has an apex and prisms don't.
have difficulty understanding the difference between a face and a base. Be explicit about the language when modelling how to describe the properties of a range of polyhedra. Provide feedback and have students experiment with the terminology.
The Learning from home activities are designed to be used flexibly by teachers, parents and carers, as well as the students themselves. They can be used in a number of ways including to consolidate and extend learning done at school or for home schooling.
Learning intention
We are learning how to construct models of prisms and pyramids.
Why are we learning about this?
Shapes and objects are all around us.
What to do
Look around your home to see what 3D objects you can find. Can you find objects that look like this?

| | | | |
| --- | --- | --- | --- |
| a cylinder | a rectangular prism | a cube | a triangular prism |

Draw a picture of the objects you found. Label the properties of each shape based on their faces, bases, edges and vertices (corners).
Choose one object to make using a net.

Choose a small item to store for safekeeping. It could be a coin, a lolly or a similar-sized object.

Find an old greeting card and use this to create a box to keep your item in.
Draw a plan of how you are making your box. Think about how to add a lid.
Success criteria
I can:
identify 3D objects
construct a prism from nets
describe prisms by their properties such as faces, bases, edges and vertices
create a 3D object using a net.
Please note: This site contains links to websites not controlled by the Australian Government or ESA. More information here.
Teaching strategies
A collection of evidence-based teaching strategies applicable to this topic. Note we have not included an exhaustive list and acknowledge that some strategies such as differentiation apply to all topics. The selected teaching strategies are suggested as particularly relevant, however you may decide to include other strategies as well. 
Teaching resources
A range of resources to support you to build your student's understanding of these concepts, their skills and procedures. The resources incorporate a variety of teaching strategies.