Expected level of development
Australian Curriculum Mathematics V9: AC9M1N01, AC9M1N03
Numeracy Progression: Number and place value: P4, Counting processes: P4
At this level, students work towards being able to recognise, represent and order numbers up to 120. They use partitioning and various counting processes to make sense of and represent numbers in different ways.
Students learn to use numerals, number tracks, number lines and charts to explore patterns and notice how different counting sequences change the digits in the number. Reading, writing, naming and ordering numbers from zero to at least 120 is a focus, as is numbers that look and sound similar and can be confused, such as 14, 40 and 41. Provide regular opportunities for oral counting practice.
Students apply knowledge of number names, numerals and number sequences to the context of counting activities. Make explicit the usefulness of skip-counting strategies when counting collections, particularly using groups of 10. Provide regular opportunities for students to see how different number patterns change the starting number, for instance, how adding or subtracting 10 only changes the tens digit (e.g. 32 + 10 = 42).
Include a focus on how numbers are used and represented across different cultures.
Teaching and learning summary:
Explore number sequences through play-based experiences, stories, counting routines and games.
Use partitioning and reasoning when counting and comparing collections.
Connect counting processes to everyday contexts, including money.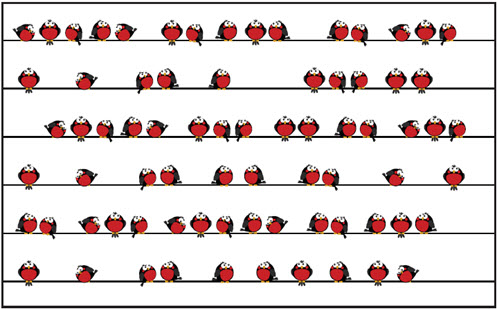 Students:
count to and from 120 by ones from any starting point
count forwards and backward to 120 by tens
order numbers by placing number cards at precise points along a number line
count large collections using group of fives and tens and by skip-counting and recording details of the count.
Some students may:
have difficulties with the number naming sequence from 12, particularly with the start of the teen sequence. They may say, 'twelve, thirty, forty, fifty, sixty, seventy, eighty, ninety' when counting aloud by ones from 12. To help address this, provide repeated opportunities to practise reading and naming numbers, emphasising teen numbers.
have difficulty bridging across decades when counting forwards, for example, they may follow twenty-nine with twenty-ten. To address this, use a daily counting routine such as '100 days of school' and provide repeated opportunities to count using hundreds charts as a counting tool.
experience difficulty bridging across barriers when counting backwards. For example, they may have difficulty crossing tens barriers when counting backwards from 54, saying, 54, 53, 52, 51, 50, unsure. Or they may skip all other numbers in a decade, for example, following 30 with 20. To address this, provide repeated opportunities to engage with hundreds chart and assist students to visualise the patterns in it.
The Learning from home activities are designed to be used flexibly by teachers, parents and carers, as well as the students themselves. They can be used in a number of ways including to consolidate and extend learning done at school or for home schooling.
Learning intention
We are developing confidence when counting and skip-counting up to 120.
Why are we learning about this?
Counting and skip-counting are skills regularly used in everyday life.
What to do
Count how many steps it takes to walk from one part of the house to another.
Count when grocery shopping together. For example, skip-count by twos the number of apples you put into the bag.
Read picture storybooks and count by ones or twos to work out 'how many' of something is on a page.
Do a stocktake of collections at home. For example, skip-count objects groups of twos, fives or tens.
Listen to songs about skip-counting by twos, fives and tens. There are many appropriate songs for children on YouTube.
Success criteria
I can:
count forwards to starting at any number up to 30 initially, then up to 100, then 120
count backwards from any number up to 30 initially, then up to 100, then 120
count forwards and backwards to 100 by tens, then 120
use skip-counting to count objects in groups of twos, fives and tens.
Please note: This site contains links to websites not controlled by the Australian Government or ESA. More information here.
Teaching strategies
A collection of evidence-based teaching strategies applicable to this topic. Note we have not included an exhaustive list and acknowledge that some strategies such as differentiation apply to all topics. The selected teaching strategies are suggested as particularly relevant, however you may decide to include other strategies as well. 
Assessment
By the end of Year 1, students can connect number names, numerals and quantities and order numbers to at least 120. They can partition collections into equal groups and skip-count in twos, fives or tens to count collections to at least 120.