Expected level of development
Australian Curriculum Mathematics V9: AC9M8ST04
Numeracy Progression: Interpreting and representing data: P7
At this level, students bring together their learnings and plan a statistical investigation using known data or by collecting statistical data themselves. Students identify potential data collection and analysis from available data sets and identify the most practical method for collecting data to make inferences that are ethical and fair.
Students recognise that there are implications when collecting data and that bias can affect statistical analysis, even when it is unintentional. Guide students with questioning and reasoning in their mathematical investigation to help them logically choose the best approach that helps reduce such factors.
Investigations such as these allow students to become active participants and have the potential to engage them with statistical problem-solving, while providing for a variety of learners and allowing for differentiation. They also provide opportunities for students to learn how important statistics have become in our daily life. Encourage students to find real-world data sets that interest them and find opportunities to scaffold and guide their investigations in a meaningful way.
Have students report their findings to the class orally or in the form of a report or poster. Ensure students understand the need to acknowledge uncertainty in their findings. Ask students how they identified uncertainty and encourage them to engage in classroom discussions.
Teaching and learning summary:
Discuss and explore different sampling methods and procedures for data collection.
Ensure that students understand and recognise the difference between primary and secondary data and that they can highlight any potential issues that need to be considered when using secondary data.
Expand on key vocabulary and include more complex terminology such as 'sample distribution' and 'sample space'.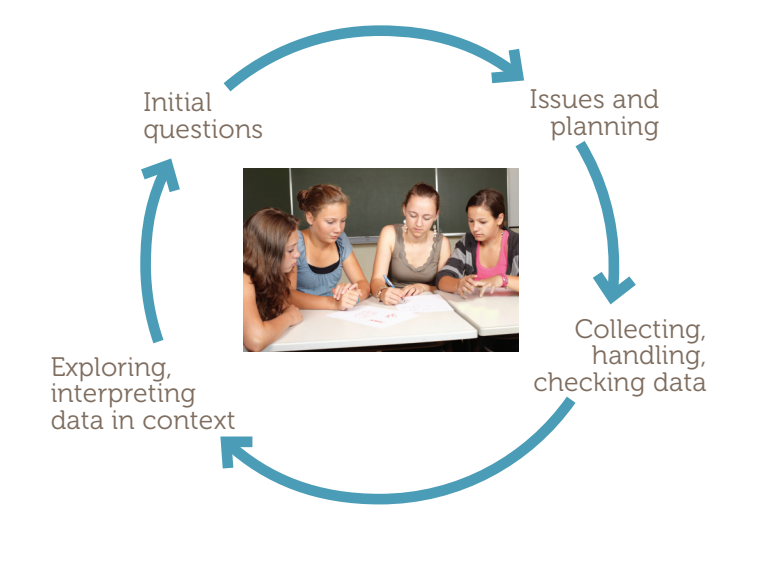 Students:
can plan and conduct a statistical investigation on a sample from a population
draw inferences that produce reliable results
identify and apply a fair method or procedure to their investigation
identify uncertainty in their investigation
report and communicate findings.
Some students may:
not realise that sample data may not be representative of the total population, particularly where the sample size is small. Therefore, it is often not suitable for producing benchmark data required for high-level decision-making or for academic research/review.
not understand that sample data is subject to 'sampling' error when it is collected from a larger data set where inferences are made about the whole population.
not appreciate that when a sample size has information deleted from the sample, the inherent details within that sample degrade.
Find more common student misunderstandings about samples and sampling here.
The Learning from home activities are designed to be used flexibly by teachers, parents and carers, as well as the students themselves. They can be used in a number of ways including to consolidate and extend learning done at school or for home schooling.
Learning intention
I am learning to plan and conduct a statistical analysis using samples from a population.
Why are we learning about this?
Being as healthy as possible, for as long as possible, is important to many people. Our life span is the total number of years we live whereas our health span is how many of those years we remain healthy and free from disease. Think about health span versus life span:
What would you want the last 10 years of your life to be like?
What can you do to improve your health span?
For this activity, we are going to investigate real data on health and contributing factors that affect our health span. Using real data shows us how important statistics is to one of the most important aspect of our lives: health.
What to do
Follow the instructions below to explore the health data set from the Australian Bureau of Statistics (ABS). After you have gone through the steps, find a sub-set collection of data that interests you and repeat the exploratory process.  
Go to the Statistics: Health section from the ABS and view the five options available for you to click on. They are health conditions and risks, causes of death, disability, health services, and mental health.
Click on each one and take a look around. 

How do you think all of this information was collected? Jot down your thoughts on a piece of paper.
Do the ABS publish where they collected their data?
If so, where did you find it?

Now go to 'Health conditions and risks' and click on the box 'Physical activity'.
Scroll down and explore the content. Take mental notes of all the features on this page. Click on the interactive chart/table displays and expand any sections that include more information. 
Take a pen and paper and jot down all the sections of this page and write down why you think they have been included on this web page. Example: the first section contains key statistics = gives breakdown of the important points discovered by the authors. Do this for the rest of the web page.


What variables presented in visual displays pique your interest? 
What information about physical activity is conveyed to you? Can you spot any trends?
Do you want to make changes to your activity levels or how active you want to be when you're older?

Now scroll down right to the part that says 'Data downloads'. Select 'Table 4 Selected long-term health conditions by health risk factors and health status' and open up the spreadsheet.
The first thing you see is a Contents page. Click on 4.1
Have a look at all the headings in the rows and columns.

In one or two sentences, can you describe what this data sheet represents?
In column A, Row 10, there is a heading 'Self-assessed health status'. What does that mean and how do you think it was collected? 
In Row 8, what does 'ESTIMATE ('000)' mean?
Are there any numbers in this spreadsheet that interest you?

Go back to the web page and scroll down to the bottom to the Methodology section. Click on 'National Health Survey: First results methodology'
Have a scroll through and read all the headings and the opening sentences.

What information is being conveyed here?
Do you think that you could plan and conduct a similar survey?
How many variables, limitations and exclusions would you need to consider?
How much time and people power would you need to help you?
How could you collect similar statistical information using two variables? Could you use information from these data sheets?
Would your collection be primary or secondary data?
You have now successfully explored a large amount of information and data in detail. Imagine how much data the whole of the ABS has on their website given they collect data about Australia on many, many aspects of Australian life? Do you think being a statistician would interest you?
Success criteria
I can explore a comprehensive real-world data site.
I can learn from sites, such as the ABS, about how to conduct a detailed statistical investigation. 
Please note: This site contains links to websites not controlled by the Australian Government or ESA. More information here.
Teaching strategies
A collection of evidence-based teaching strategies applicable to this topic. Note we have not included an exhaustive list and acknowledge that some strategies such as differentiation apply to all topics. The selected teaching strategies are suggested as particularly relevant, however you may decide to include other strategies as well. 
Teaching resources
A range of resources to support you to build your student's understanding of these concepts, their skills and procedures. The resources incorporate a variety of teaching strategies.
Assessment
By the end of Year 8, students can conduct statistical investigations and explain the implications of obtaining data through sampling.