Expected level of development
Australian Curriculum Mathematics V9: AC9M8ST01
Numeracy Progression: Interpreting and representing data: P7
At this level, students examine different techniques for collecting types of data and begin to consider the challenges of collecting representative data by sampling a population.
Students consider population surveys where data is conducted by census. Discuss some of the issues to consider when collecting samples for surveys, such as accuracy, cost, time, practicality and survey techniques (for example, in person, questionnaire, interview or online).
Students investigate random sampling techniques where each data point of a given population has an equal chance of being selected. They also investigate non-random sampling techniques where data is collected in a way that is convenient for the data collector, for example, putting survey questions to people walking by in a shopping centre.
Explain that statistical data can also be obtained through experimentation and observation whereby a systematic approach is applied methodically; that is, the way the data is obtained, observed, measured, recorded and analysed. The data collected may be qualitative (data that is categorised, such as gender) or quantitative (numerical data, such as temperature).
Critically examine the different sampling methods mentioned above and how the data may have been protected or not protected from various biases. Ask questions about the data and the way it was collected to get students thinking. For example, what information was considered when participants were interviewed in the shopping centre (age, postcode, gender)? Were the average distances travelled by golf balls collected at various holes during a golfing tournament advantaged or disadvantaged by wind?
Teaching and learning summary:
Discuss survey methods and questioning techniques.
Investigate different survey methods.
Discuss the experimental and observational sampling, as well as random and non-random sampling methods.
Discuss practicalities and implications of various forms of data collection.
Encourage questioning of data and data collection.
Introduce the notion of bias and how bias can enter data collections.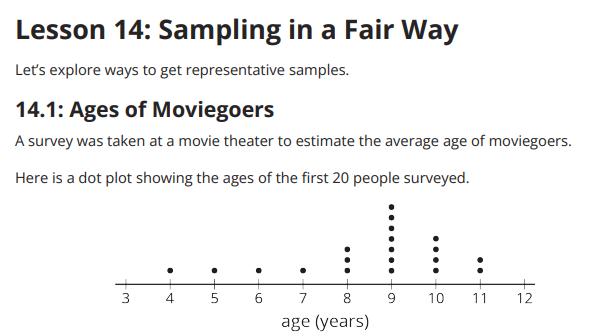 Students:
explain the difference between a population and a sample survey and when each is appropriate
know the practicalities and implications of using a sample survey
evaluate other investigative processes such as those that are experimental and observational
understand the notion of randomness and non-randomness in terms of sampling
recognise potential biases in data samples and populations.
Some students may:
not understand that a sample may be too small and therefore not representative of a population.
underestimate the value of carefully considered survey questions that try to eliminate leading questions and bias.
not choose the most efficient and practical method to approach data collection for analysis.
For a more detailed discussions visit this resource for teachers.
The Learning from home activities are designed to be used flexibly by teachers, parents and carers, as well as the students themselves. They can be used in a number of ways including to consolidate and extend learning done at school or for home schooling.
Learning intention
I am learning to develop questions for a survey to make sure sample data collected represents the population.
I will investigate the options to collect data to choose the most appropriate.
Why are we learning about this?
The way questions are written may influence the answers collected. Often scammers target their victims using text, phone or email and FOMO on a too-good-to-be-true online shopping offer, a claim for a false bill, or even identity theft to deceive people. Scams cost people time and money and cause unnecessary stress.
What to do
Develop a Spam-A-Lot survey to investigate the frequency, topic and method used by scammers.
Responses to your survey may be collected from direct questioning, using social media or other convenient methods.
Using your survey results, predict what proportion of the population or how often people are being targeted by scammers.
How does your data compare to https://www.scamwatch.gov.au/scam-statistics ?
Success criteria
I can refine and develop questions for a survey to make sure sample data collected represents a population.
I can choose the most appropriate option to collect data.
Please note: This site contains links to websites not controlled by the Australian Government or ESA. More information here.
Teaching strategies
A collection of evidence-based teaching strategies applicable to this topic. Note we have not included an exhaustive list and acknowledge that some strategies such as differentiation apply to all topics. The selected teaching strategies are suggested as particularly relevant, however you may decide to include other strategies as well. 
Assessment
By the end of Year 8, students can investigate the different techniques used to collect data including census, sampling, experiment and observation. Students can explain the practicalities and implications of each collection technique.