Expected level of development
Australian Curriculum Mathematics V9: AC9M5ST02
Numeracy Progression: Interpreting and representing data: P5
At this level, students interpret line graphs representing change over time. They discuss the relationships that are represented and draw conclusions.
Provide opportunities for students to analyse and interpret data presented in two-way tables and line graphs. Use questioning to prompt students to describe patterns, trends or relationships they notice in the data. It is also important that students have the chance to decide which graphical representations to use and determine when graphs are suitable or not suitable for the context and data they have collected. Make explicit that line graphs are suitable to represent continuous data, such as to show trends in speed or temperature.
A useful approach for applying understanding of line graphs is to present unlabelled line graphs and have students interpret and match the data to relevant contexts.
Provide guidance and the opportunity for students to use digital tools to explore how different types of graphs can be created from one dataset. Students can discuss the advantages and disadvantages of each and develop the ability to choose graphical displays wisely. They can also determine when a particular type of graph may or may not be helpful to describe a set of data.
This topic can be explored using scientific investigations that involve interpreting data, particularly those that include temperature data.
Teaching and learning summary:
Model ways to interpret data presented in two-way tables and line graphs.
Make explicit the benefit of using line graphs for continuous data.
Provide guidance and the opportunity for students to use digital tools, including the use of software such as spreadsheets to create graphs to represent data.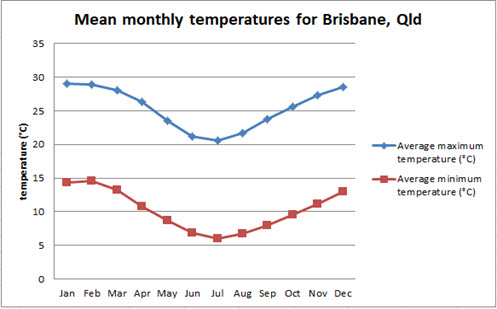 Students:
interpret data and create a graph to represent the data
draw conclusions about the represented data.
Some students may:
not yet realise the need to use a relevant type of graph for a particular dataset, for example, that temperature is continuous data that is best represented using a line graph. Provide multiple opportunities to explore graphs and data presented in two-ways tables that are continuous.
find it challenging to plot two sets of values in the one graph. To address this, ensure students plot one series of points at a time and draw the line of best fit before plotting the next series of values. Also have students predict what trend the graph may present before plotting the data. Discuss the scale required to best suit the range of data. Ask students to first consider the highest and lowest data values. This should help them decide on an appropriate scale. Provide timely feedback to ensure students use an appropriate scale.
confuse the values being plotted and inaccurately plot the points and therefore draw the line graph inaccurately and misinterpret any relationships. Ensure students check the values with their plotted positions to ensure accuracy.
The Learning from home activities are designed to be used flexibly by teachers, parents and carers, as well as the students themselves. They can be used in a number of ways including to consolidate and extend learning done at school or for home schooling.
Learning intention
We are learning about lines graphs and when to use them.
Why are we learning about this?
Lines graphs are an important way to represent data that is continuous such as temperature.
What to do
Open this worksheet: Capital city data detective.
Work out which table relates to which capital city. Explain your reasoning.
Here is a partly completed graph using some of the data from one of the tables.


Which table is this graph representing: Table A or Table B?
Why are there two lines for this graph? What do the different coloured lines represent?
Can you predict what the graph with all the values plotted might look like?
Plot the points to see if you were correct.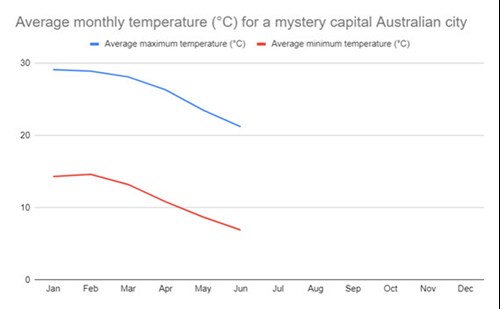 3. Create a graph for the other table of data. If you can, use a computer and spreadsheet to create the graph.
4. Consider the best type of graph to use. Give a reason for your choice of graph.
What patterns do you notice?
What conclusions can you draw from the two graphs?
Success criteria
I can:
interpret data and create a graph to represent the data
make conclusions about the represented data.
Please note: This site contains links to websites not controlled by the Australian Government or ESA. More information here.
Teaching strategies
A collection of evidence-based teaching strategies applicable to this topic. Note we have not included an exhaustive list and acknowledge that some strategies such as differentiation apply to all topics. The selected teaching strategies are suggested as particularly relevant, however you may decide to include other strategies as well. 
Assessment
By the end of Year 5, students are identifying the mode and interpret the shape of distributions of data in context.