Expected level of development
Australian Curriculum Mathematics V9: AC9M5A02
Numeracy Progression: Multiplicative strategies: P7, Number patterns and algebraic thinking: P5
At this level, students are given opportunities to explore mathematical equations involving multiplication and division.
Introduce relevant number problems that involve students applying multiplicative strategies to solve mathematical problems with an unknown value. The aim is to develop students' use of flexible strategies for multiplication and division, for example, working out how long it will take to save $100 when saving $4 a week. Show how to record the data in a table and look for patterns. Support students to write a mathematical statement or equation that describes the pattern. When developing an equation, for example, 4n = 100 where n is the number of weeks, show what happens when values are changed. Make explicit inverse operations (25 x 4 = 100 and 100 ÷ 4 = 25).
Use physical materials such as Unifix cubes to build stacks. Compare larger stacks with multiples of smaller unit stacks to look for patterns. For example, compare a stack of 32 and a stack of 4. Write these as statements showing relationship between multiplication and division. Look for opportunities to demonstrate associative and commutative properties of multiplication and show that these do not work for division. Relate number stories to match the mathematical statements.
Use arrays to recognise and explain distributive property. For example, when given the equivalent number sentence
5 x 17 = 5 x 10 + 5 x 7 students can reason whether this is true.
Teaching and learning summary:
Use number stories to form equations and find unknown values.
Use materials, diagrams and arrays to demonstrate that multiplication is associative and communitive but division is not.
Investigate equivalent number sentences involving multiplication to find unknown values.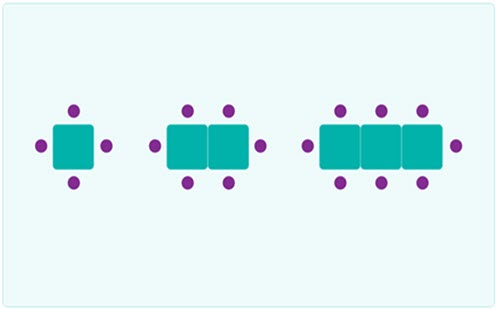 Students:
describe strategies for solving number sentences to find an unknown value and justify solutions
identify and use inverse operations for multiplication and division to solve number sentences
write number sentences to match word problems that require finding an unknown value.
Some students may:
not yet make the connection between multiplication and division being inverse operations. Provide models of numbers that show this relationship. Make these connections explicit using number talks.
not yet understand the meaning of the equals sign. Often students will think that the equal sign means 'the answer is', while in fact it means 'the same as' or 'equivalent to'. Provide examples where students balance equations using multiplication and division operations, for example, 5 x 4 = 20 ÷ ? Students use relational thinking to solve the problem. Refer to the article Getting the balance right to discover common misconceptions surrounding the equals sign, and ways to help students develop their understanding.
find it challenging to analyse a table of results and describe patterns, for example, when looking at input and output values they cannot see the relationship such as a common multiplier. Scaffold problems and support students to verbalise what they notice, prompt student thinking with questioning and provide feedback. Help them understand ways to analyse the relationship between input and output.
The Learning from home activities are designed to be used flexibly by teachers, parents and carers, as well as the students themselves. They can be used in a number of ways including to consolidate and extend learning done at school or for home schooling.
Learning intention
We are learning to look for patterns to help solve mathematical problems.
Why are we learning about this?
Algebraic thinking can help us to solve problems.
What to do
1. Look at this pattern. It is a seating arrangement for people to sit around tables.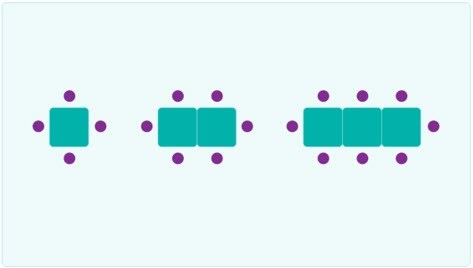 Draw what you think will be the next arrangement.
2. Complete this table to show the number of tables and number of people.
3. See if you can write a rule to find the number of people for a given number of tables.
| | |
| --- | --- |
| Number of tables | Number of people |
| 1 | 4 |
| 2 | 6 |
| 3 |   |
| 4 |   |
| 5 |   |
| 10 |   |
| 20 |   |
Success criteria
I can:
describe patterns in arrangements and data
write a rule to describe a repeating pattern to solve problems.
Please note: This site contains links to websites not controlled by the Australian Government or ESA. More information here.
Teaching strategies
A collection of evidence-based teaching strategies applicable to this topic. Note we have not included an exhaustive list and acknowledge that some strategies such as differentiation apply to all topics. The selected teaching strategies are suggested as particularly relevant, however you may decide to include other strategies as well. 
Assessment
By the end of Year 5, students find an unknown number in number sentences.