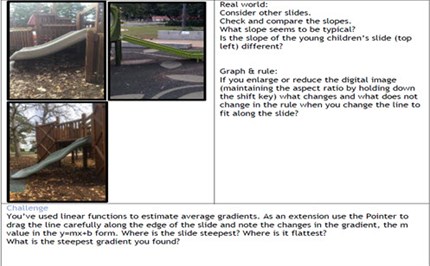 Please note: This site contains links to websites not controlled by the Australian Government or ESA. More information here.
reSolve: Real-World Algebra: Linear Functions
This sequence of two lessons explores real-world, algebraic, numeric and graphical representations of linear functions, focussing on the gradient of linear functions. Students use images of everyday objects and inscribe straight lines, then use GeoGebra to explore the algebraic representation of their lines. Each lesson is outlined in detail including curriculum links, vocabulary, materials needed, sample answers, discussion points and student resources. This sequence is part of the reSolve: Mathematics by Inquiry special topic 'Bringing the real world into algebra'.