Expected level of development
Australian Curriculum Mathematics V9: AC9M9A01
Numeracy Progression: Multiplicative strategies: P10
At this level, students apply and extend their knowledge and skills of exponent laws to simplify or expand numeric and algebraic expressions and solve equations.
It is recommended teachers demonstrate explicitly how to recognise and represent exponents; simplify exponents involving positive and negative integers; and expand exponent laws to show understanding and connections to related concepts.
Use real-world examples, such as macro and micro units of measurement, to show where algebra is used and why it's important.
Once students are writing numbers in exponent form, progress to applying exponent laws to simplify expressions involving products, quotients with numbers and then variables.
It is important students are comfortable using exponents algebraically.
Teaching and learning summary:
Revise and extend decimal notation and exponent laws. Ensure students can represent decimals in exponential form.
Build on simplification and expansion of algebraic expressions involving positive and negative exponents.
Practise applying exponent laws to expressions involving products and quotients.
Relate exponents to real-life examples, for example, micro and macro measurement units.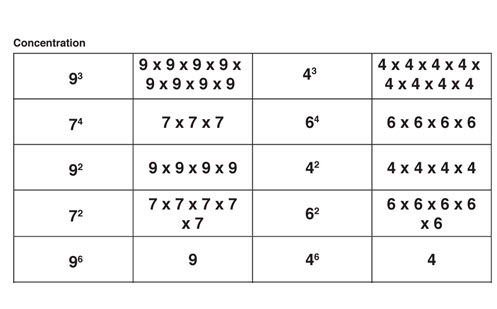 Students:
expand skill with exponent laws
recognise how to expand and simplify numeric and algebraic expressions involving exponents
know how to apply exponent laws to simplify expressions.
Some students may:
multiply, rather than add, the exponents when simplifying exponential expressions involving multiplication.
divide, rather than subtract the exponents when simplifying exponential expressions involving division.
not realise that a pronumeral without the exponent showing always has an exponent of 1; that is 2 = 21, x = x1.
not realise that base integers with an exponent of 0 equals 1, 30 = 1, x0 = 1.
Use the expansion of exponents for students to make connections between notation and their actual representation and meaning. Encourage students to show the exponent step in their working to show they understand. Continue to develop the simplification and solving of more complex algebraic problems involving exponents.
The Learning from home activities are designed to be used flexibly by teachers, parents and carers, as well as the students themselves. They can be used in a number of ways including to consolidate and extend learning done at school or for home schooling.
Learning intention
We are learning about the application of exponential notation in computer storage units.
We are learning about writing common computer storage bytes in exponent form using 1024 as the base in an equivalent form.
Why are we learning about this?
Exponential notation is used to express numbers or variables that are repeatedly being multiplied by themselves in a more concise and manageable way. Computer programmers, engineers, scientists, economists, actuaries are some of the people who use exponential notation in their everyday working life.
What to do
1. Write the following two exponential numbers out in full:
Gigabyte (GB): 10243 = _____________________________ bytes
Terabyte (TB) = 10244 = ___________________________________ bytes
     Imagine writing these numbers out in full every time you needed to use them!
2. Which one of the following two statements is correct, A or B?
A: Gigabyte + 1024 = Terabyte
B: Gigabyte × 1024 = Terabyte
     Hint: look at the exponent laws for help.
3. A kilobyte (KB) is 1024 bytes. A kilobyte can also be expressed in exponent form using 2 as the base:
1024 = 210.
   Write the following storage bytes in exponent form using 2 as the base:
Megabyte (MB) 10242
Petabyte (PB) 10245
Yottabyte (YB) 10248
Success criteria
I can write an equation that relates one computer storage unit to another.
I can rewrite a common computer storage unit as an equivalent exponent using 2 as the base.
Please note: This site contains links to websites not controlled by the Australian Government or ESA. More information here.
Teaching strategies
A collection of evidence-based teaching strategies applicable to this topic. Note we have not included an exhaustive list and acknowledge that some strategies such as differentiation apply to all topics. The selected teaching strategies are suggested as particularly relevant, however you may decide to include other strategies as well. 
Teaching resources
A range of resources to support you to build your student's understanding of these concepts, their skills and procedures. The resources incorporate a variety of teaching strategies.
Assessment
By the end of Year 9, students can apply the exponent laws with positive integers to variables.