Expected level of development
Australian Curriculum Mathematics V9: AC9M8SP03
Numeracy Progression: n/a
At this level, students work with 3D objects that can be located on the x, y, z planes, allowing students to extend their thinking away from flat objects on a 2D plane, to objects with volume that have a position in space with (x, y, z) coordinates. Students can explore various ways to view 3D objects, such as drawing 3D cubes and rectangles on the x, y, z planes, but digital technologies affords the means to explore the 3D world by building an object in space, defining an object and recording objects.
Show students how to transform objects, recognising patterns, exploring reflections and rotations. Dynamic geometric software programs, such as GeoGebra, have several interactive activities to explore this topic. Such activities can be found in the Teaching Resources section.
Connections to the world around us help students comprehend meaning. An object does not have to be just a shape, it could be a country on a global map, a house on a street in your area, or the position of the moon or sun in relation to Earth at a particular point in time.
Making cross-connections with Science, Engineering and Design builds engagement and consolidates learning on this topic.
Teaching and learning summary:
Revise transformations of shapes, as well as area and volume.
Revise the Cartesian plane and introduce the third dimension.
Compare and contrast the 2D and 3D coordinate systems.
Investigate the x, y, z coordinates and manipulate them to recognise patterns of change.
Model the 3D world using digital technologies and various spatial software programs.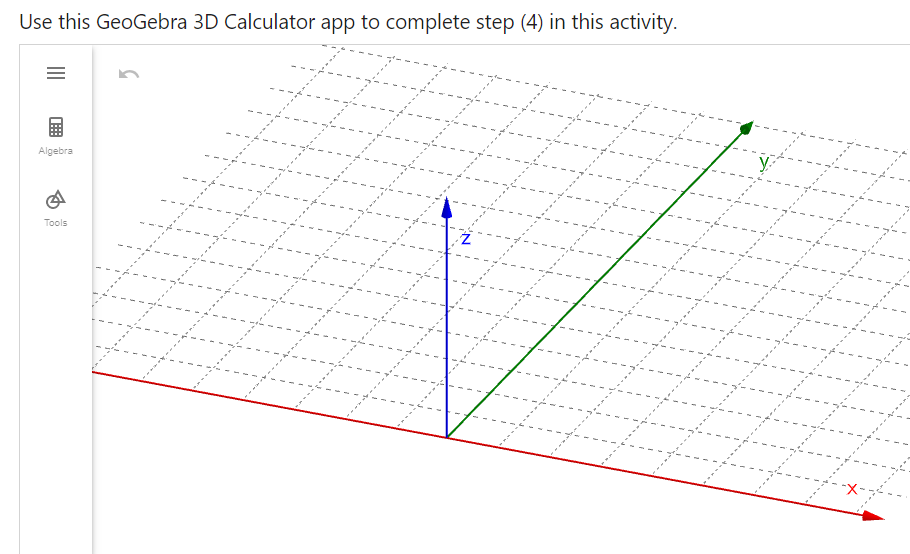 Students:
define the properties of 2D shapes
can transform shapes practising reflections, rotations and symmetry
visualise shapes in the 3D world
can describe the location and position of objects in a variety of ways
work with digital tools to explore objects in 3D.
Some students may:
have difficulty visualising and transforming a 2D shape into a 3D shape.
think that a polygon is a flat shape with edges or sides.
not have consolidated their knowledge of perimeter, area, volume and the properties of shapes.
require more time drawing on grid paper to experiment with reflections, rotations and translations.
may require more practice to extend their thinking into the next dimension.
have difficulty exploring and reasoning with 3D shapes.  
Using digital software can help bring a flat shape to life and consolidate visualisation of and thinking in 3D. Digital software allows variables to be changed, and the effects on a shape or 3D object are immediately shown.
The Learning from home activities are designed to be used flexibly by teachers, parents and carers, as well as the students themselves. They can be used in a number of ways including to consolidate and extend learning done at school or for home schooling.
Learning intention
We are learning to explore the 3D dimension with an object at home (chocolate) using drawing and graphing skills.
We are converting drawings into digital 3D objects using dynamic geometric software.
Why are we learning about this?
In today's world and in the future world, design and industrial design using digital software is an important skill. This activity allows the transformation of an object from the real world into the digital world.
What to do
You will need a Toblerone chocolate bar, pencil, paper, ruler and your computer.
Go to this link and open up the activity.
Follow steps 1, 2 and 3.
Once finished, use the Geogebra 3D calculator on your device and follow the video to complete the activity.
Success criteria
I can use symmetry and my knowledge of prisms to help me reimagine my object.
I use dynamic software to reimagine my object in the digital world.
Please note: This site contains links to websites not controlled by the Australian Government or ESA. More information here.
Teaching strategies
A collection of evidence-based teaching strategies applicable to this topic. Note we have not included an exhaustive list and acknowledge that some strategies such as differentiation apply to all topics. The selected teaching strategies are suggested as particularly relevant, however you may decide to include other strategies as well. 
Assessment
By the end of Year 8, students can use 3 dimensions to locate and describe position using dynamic geometric software and digital tools.