Differentiated teaching

Overview
Differentiation involves teachers creating lessons that are accessible and challenging for all students. It is one of the core functions of teaching and one of the hardest. To be successful, a teacher needs to know where the students are and plan, deliver and assess the content in various ways, so all students make progress in their learning. Teachers can adjust content, activities, expected outcomes and assessment criteria to achieve this aim. The physical classroom environment also has a role to play.
The challenge for many teachers is how to differentiate successfully without planning a separate lesson for each student. Although students are traditionally grouped by perceived ability in mathematics classes, research has shown that flexible grouping, depending on topic and task, is more effective than fixed-ability grouping.
The teacher:
uses pre-assessment, formative assessment and other diagnostics to know the level of each student
sets high but reasonable expectations for each student
plans for the different levels and abilities of every student
uses a range of activities and strategies
uses flexible grouping and levelled examples to support each student
monitors individual student progress
offers targeted feedback to enable each student to move forward.
The students:
know they are being assessed individually, not against other students
know that their expectations are reasonable and achievable
can set their own learning goals
feel supported in their learning.
Example of the strategy in action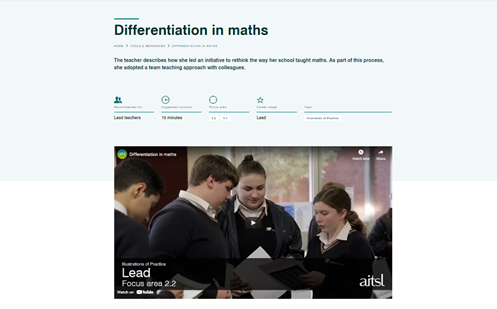 In this video, a teacher discusses how she introduced a team-teaching approach in her school to better accommodate the needs of all students.