Expected level of development
Australian Curriculum Mathematics V9: AC9M4SP02
Numeracy Progression: Positioning and locating: P4
At this level, students create and interpret simple grid maps. Location on these informal maps can be represented by grid references. They understand that a grid reference identifies a region on a map.
Grid references are often alphanumeric (a combination of letters and numbers), for example, (C,2). The horizontal reference is first, followed by the vertical reference.
Consider using a transparent overlay with a marked grid over an image to introduce a grid reference of an area of a map.
Have students interpret sets of grid references on a simple map. Use relevant contexts for students to create a simple informal map and use a key to identify areas or points of interest.
First Nations Australians developed and use expert knowledge to navigate through country. This provides an authentic context to investigate mapping and an opportunity to discuss the importance of navigation and the methods by which this information can be recorded and passed on.
Teaching and learning summary:
Explain the concept of a grid system, modelling how to use grid references.
Use relevant contexts for students to create and interpret simple grid maps to show position and pathways.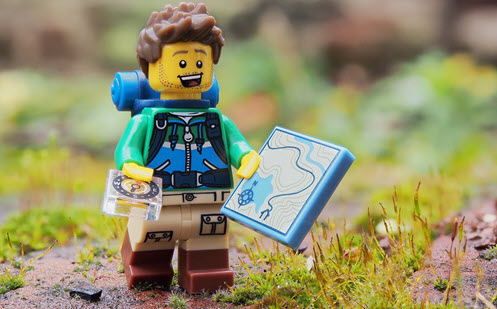 Students:
locate a position on a map using grid references
locate a position on a map using simple directions
draw informal maps using grid references and a basic key.
Some students may:
misread the grid reference; generally, the horizontal reference point is given first followed by the vertical position.
confuse grid references and co-ordinates when drawing and interpreting ordered pairs, for example, (B,7). A grid reference can be for the space within the grid. When using coordinates, for example, (5,5) this indicates where two grid lines intersect. The position of the reference points differs along each axis.
have limited experience with using cardinal compass points and confuse north and south, east and west.
The Learning from home activities are designed to be used flexibly by teachers, parents and carers, as well as the students themselves. They can be used in a number of ways including to consolidate and extend learning done at school or for home schooling.
Learning intention
We are learning about maps.
Why are we learning about this?
Maps help us use a visual way of showing how the real world looks from above.
What to do
Imagine you are a bird flying above your school.

Use the grid to draw a picture of what you might see. (We call this a bird's-eye view.)

Open the interactive Rainforest: Use a grid map.

Learn how to use a grid reference such as (C,7) to locate 'My Place' on the map.
Draw or take a screen capture of your completed map.

Make your own map with a grid reference.

Identify special locations using grid references.

| | | | | | | | | | |
| --- | --- | --- | --- | --- | --- | --- | --- | --- | --- |
|   | A | B | C | D | E | F | G | H | I |
| 1 |   |   |   |   |   |   |   |   |   |
| 2 |   |   |   |   |   |   |   |   |   |
| 3 |   |   |   |   |   |   |   |   |   |
| 4 |   |   |   |   |   |   |   |   |   |
| 5 |   |   |   |   |   |   |   |   |   |
| 6 |   |   |   |   |   |   |   |   |   |
Success criteria
I can:
draw what an area looks like from above
draw a simple map to show how to find things
describe directions on a simple map using grid references.
Please note: This site contains links to websites not controlled by the Australian Government or ESA. More information here.
Teaching strategies
A collection of evidence-based teaching strategies applicable to this topic. Note we have not included an exhaustive list and acknowledge that some strategies such as differentiation apply to all topics. The selected teaching strategies are suggested as particularly relevant, however you may decide to include other strategies as well. 
Teaching resources
A range of resources to support you to build your student's understanding of these concepts, their skills and procedures. The resources incorporate a variety of teaching strategies.