Expected level of development
Australian Curriculum Mathematics V9: AC9M9ST04
Numeracy Progression: Interpreting and representing data: P8
At this level, students are familiar with different types of visualisations of data and variables and can evaluate and interpret data displays. Students can label data as categorical (ordinal or nominal) or numerical (discrete or continuous) and consider which displays are commonly suitable to each (for example, histogram versus bar chart for continuous versus discrete). Students can purposefully collect data in each form and determine before collecting which type of data they will acquire.
Students are required to report why they made their decisions for a given context and dataset. Ensure students are comfortable comparing numerical data for histograms, dot plots and stem-and-leaf plots in relation to range, median and mean, and other features, such as spread and skewness.
Students have an opportunity to be creative and may choose to use non-standard representations of data, such as infographics, like those used in media reports and sites like Visual capitalist. However, students would be required to justify and describe their display. Question students on why they chose certain representations, who the infographic would be intended for and whether – considering the context – it was suitable.
Provide opportunities to work with real-world datasets or curate data to guide students who require more help. Encourage students to communicate and justify why they have made their choices; peer feedback is helpful in this regard.
A 'learning gallery' is perfect here. Students showcase their displays on the walls of the classroom and invite younger cohorts to come and view them. The power of each data display can be assessed afterwards by noting the number of students who can recall the statistics presented.
Teaching and learning summary:
Ensure students are fluent with different types of data.
Ensure students are comfortable with various types of visual data representations and the types of data they usually represent.
Guide students to make reasonable choices of visual data representations for given contexts.
Encourage students to explain their reasoning for choosing one type of data display over another in terms of advantages and minimising agenda or bias.
Encourage creativity to use non-standard visual representations, such as infographics or animation.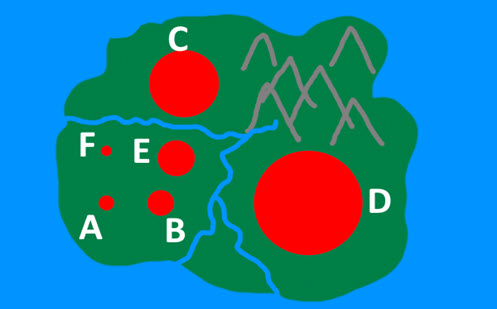 Students:
work independently to choose sensible visual data displays for different types of data
justify their choices of representation and can communicate their reasons
can interpret and evaluate data and data displays comfortably.
Some students may:
have difficulty making decisions about data and how to represent it, and require a close-ended task.
feel more comfortable with what they know rather than think creatively or laterally.
confuse frequency data with numerical data since categories can be represented as numbers in datasets.
still have difficulty, at this point, comparing stacked bar graphs, line graphs and stem-and-leaf plots.
see infographics as a way to make data visually appealing rather than as a tool to enhance readability. Although aesthetics are crucial too, a discussion could be encouraged around value in mathematics and science communication.
The Learning from home activities are designed to be used flexibly by teachers, parents and carers, as well as the students themselves. They can be used in a number of ways including to consolidate and extend learning done at school or for home schooling.
Learning intention
We are learning to study the types of data displays most often used in the media and consider the kinds of data they contain.
We are learning how different data displays are more suitable for a specific data set.
Why are we learning about this?
You might need to produce data displays in your future job. Some of you might already have part-time jobs. Consider this scenario:
You are working at the local cinema and your job is to clean up the cinemas after a screening. Some movies required much more cleaning than others and so you decide to use a data display to convince your manager which movies require extra staff for clean-up because you definitely don't want to clean up the cinema by yourself! The problem is you don't know which data displays will serve the right purpose. Your manager is very skilled and you want to make sure you know what you're doing. You decide to learn about data displays in a fun way! 
What to do
You are going to design and play a game with your family or friends – Bingo!
| | | |
| --- | --- | --- |
| Bar graph | Dot plot | Infographic |
| Poll | Pie chart | Histogram |
| Box plot | Double bar graph | Stem-and-leaf plot |
Draw up a bingo game board with each square containing a different kind of data display. It might look something like shown above.
Give them out to your family. 
Ask them to find evidence of these visual displays in the world around them over the next few days. The first person to spot three in a row either horizontally or vertically wins.
Evidence must be provided! Make sure you tell everyone to take photos of the displays they see. And no search engines allowed. The data displays need to be caught 'in the wild' – for instance in the newspaper, on TV, a billboard, a website, at the train station or on social media. For example, you might find a box plot on the news, a double bar graph on social media and a stem-and-leaf plot in a magazine. That's three in a row. You win! 
Share the photos between yourselves and discuss the data being displayed. Can you spot any patterns? Are there particular displays that often contain certain kinds of data (for example sport, economics, politics)?
Get creative and play again. You could try switching the board from showing types of data displays to showing the kinds of data that you need to spot. Once you start playing, you'll notice data displays are everywhere.
Go back through the photos you've collected of different data displays. Select your top 5, but they must all be different types. Ask your household to do the same and share your favourites. Why did each person choose the ones they did? Do you agree that their displays are informative? Or did they choose them for aesthetic reasons?
Numbers and words can get any message across, but pictures can be powerful and readable. Next time you want to make a point, rock up with beautifully displayed data!
Success criteria
I can notice data displays all around me and spot patterns in what types that are used for what kinds of data.
I can make an informed choice about a data display that would be suitable for a specific data set.
Please note: This site contains links to websites not controlled by the Australian Government or ESA. More information here.
Teaching strategies
A collection of evidence-based teaching strategies applicable to this topic. Note we have not included an exhaustive list and acknowledge that some strategies such as differentiation apply to all topics. The selected teaching strategies are suggested as particularly relevant, however you may decide to include other strategies as well. 
Assessment
By the end of Year 9, students can represent distributions of multiple numerical data sets for numerical variables, using comparative representations in consideration of centre, spread, shape and outliers.