Metacognitive strategies

Overview
Metacognition can be defined as 'thinking about thinking' or 'learning how to learn'. Metacognitive skills are those that students need to be able to reflect on their own learning, set goals for themselves, monitor their progress and make improvements to move themselves forward. These skills are not inherent and take time to teach and need practice to use well. Metacognition is embedded into the Critical and Creative Thinking General Capability in the Australian Curriculum (Version 9.0).
Here are some of the many different metacognitive strategies that can be used in the classroom.
Thinking routines – such as the Harvard Project Zero
Mathematical language routines from Stanford
Using rubrics
Graphic organisers
Number talks and strings – and other forms of guided discussion
Reciprocal teaching
Problem-solving skills
Study skills
The teacher:
models and teaches students a range of strategies to enhance and develop their thinking skills
demonstrates how the use of these strategies can assist a student in organising and communicating their thoughts, ideas and solutions to problems
plans and structures lessons so that the use of metacognitive strategies becomes a routine part of lessons (students know what to expect)
gives students clear (levelled and personalised) learning objectives and success criteria
provides students with informative feedback to help them move forward.
The students:
take responsibility for their own learning
set themselves specific short-term goals
adopt powerful strategies, such as thinking routines, for attaining their goals
reflect on and monitor their own performance for signs of progress
adapt their physical and social context to make it compatible with their goals
manage their use of time efficiently
self-evaluate their methods
use feedback to make improvements going forward.
Examples of the strategy in action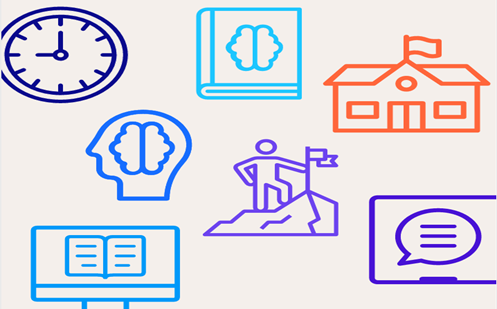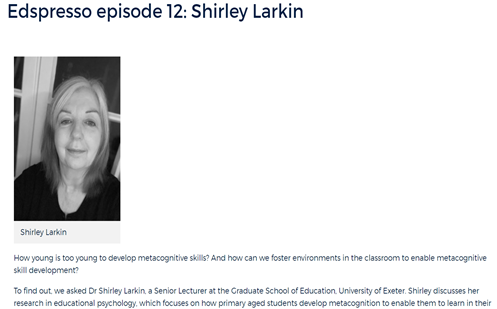 Edspresso episode 12: Shirley Larkin
In this podcast, Shirley Larkin describes how to develop metacognitive skills in young children. Shirley also describes ways to foster environments in the classroom to enable metacognitive skill development.