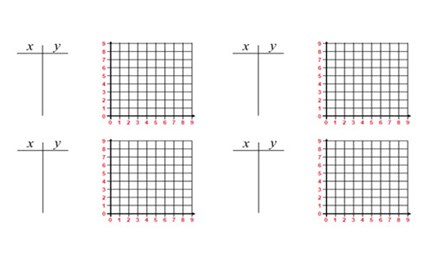 Please note: This site contains links to websites not controlled by the Australian Government or ESA. More information here.
Straight line?
The sequence of lessons explores students' capacity to utilise a rule, to rearrange equations and determine angle of elevation. The third lesson introduces a third variable, introducing students to three-dimnesional coordinates, teaching students how to plot points and read points on a Cartesian grid. Guidance is provided on how to interpret student responses to diagnose misconceptions and includes follow-up lessons to address these. Teacher notes and resources are also provided for use throughout the lessons.
Additional details

Year level(s)
Year 8
Audience

Teacher,

Student

Purpose
Assessment task

,

Curriculum design

,

Content knowledge

,

Student task

,

Teaching resource

,

Teaching strategies
Format

Downloadable resources

Teaching strategies and pedagogical approaches

Collaborative learning,

Differentiated teaching,

Explicit teaching,

Mathematics investigation,

Setting goals,

Structuring lessons,

Worked examples

Keywords
linear equations

,

Cartesian planes

,

y axis

,

x axis

,

substitute

,

gradient

,

y intercept

,

x intercept

,

positive

,

negative

Curriculum alignment

Curriculum connections
ICT general capability

,

Numeracy
Strand and focus
Algebra

,

Number

,

Apply understanding

,

Build understanding
Topics
Addition and subtraction

,

Algebraic expressions

,

Data representation and interpretation

,

Integers

,

Linear relationships

,

Multiplication and division
AC: Mathematics (V9.0) content descriptions

AC9M8A02

Graph linear relations on the Cartesian plane using digital tools where appropriate; solve linear equations and one-variable inequalities using graphical and algebraic techniques; verify solutions by substitution

Numeracy progression

Number patterns and algebraic thinking (P7)

---

Copyright details

Organisation

Inquiry Maths

Copyright

© Andrew Blair 2012-21. Creative Commons BY-NC-SA 4.0.